Please Note: This website is undergoing an extensive update and revision. I apologize for any inconvenience. Please check back in a few weeks or contact me as needed. Thank you.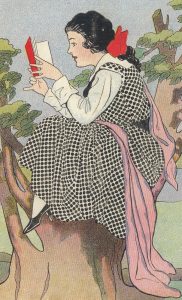 Evelyn Whitaker, 1844-1929, 
is the anonymous author of:  Miss Toosey's Mission, Laddie, Letters to Our Working Party, Tip Cat, Zoe, Our Little Ann,  Belle, Ward's Cross, Dear, Don, For the Fourth Time of Asking, Lil, Pen, Pomona, Pris, Rob [Rob & Kit in US editions], Rose and Lavender, Tom's Boy, My Honey, Baby Bob, Baby John, Faithful, Gay, Lassie, Phoebe's Hero, and perhaps other books "by the author of Honor Bright."    
Late Victorian author Evelyn Whitaker,  a British woman, wrote "stories" and "tales" intended for young people although her books were widely read by adults, particularly women.  Her books were popular prizes given to school children and were reissued and read well into to the 20th Century.  he novels were issued anonymously until 1903 when the identity of Evelyn Whitaker as the author of the beloved Miss Toosey's Mission and Laddie was revealed on the title page of Gay. A Story.Tip Cat, Whitaker's first work to be originally published as a novel in 1871, was selected as a text for students studying English in German and French universities.  Her writing 
"style is noteworthy for its fluency and ease, and the diction is pure English, a study in English for its conciseness, simplicity, and elegance."     Providence Journal.
Whitaker's books were issued by multiple publishers in Britain and the United States.  Better editions were well illustrated.  In the U.S. there are some rather stunning examples of pirated releases.
Her younger sister, Florence Whitaker, is the author of Christie's Inheritance.
Evelyn Whitaker and her sisters (Katherine and Emily Jane) also founded The Buttercups, a convalescent home for children.
 Evelyn Whitaker is the probable anonymous author of a number of books published "by the author of Honor Bright." Many of these stories were reprinted from The Monthly Packet of Evening Readings for Members of the English Church edited by Charlotte M. Yonge. Sue Chestnutwood Perkins is the author of Honor Bright, a romance, (1870) and Malbrook (1868) both published by S. Low, Son & Co. (London) and by Carleton, (New York)  and her identity as the author  of both books is confirmed by an 1883 reference to her in The Literary World.  Despite frequent attribtuion to her including by Google digitized books, Perkins is not the author of Honor Bright or the four-leaved shamrock, Gilly Flower, etc.
   Evelyn Whitaker's dates (1857-1903)  taken from the Cambridge Bibliography of English Literature and from  library card catalogs are not birth/death years but publishing career years.  1903 is the year that author's name was revealed.  The 1857 date is probably a cataloging error resulting from a confusion of titles. Evelyn Whitaker was born in 1844 and died in 1929.