For more than two decades the author (or "authoress" as she was called in the Whitaker family tree) of Miss Toosey's Mission, Laddie, and Tip Cat, "having discovered her talent with the pen," kept "her name a strict secret." It seemed "to her that the only way for her work to succeed, to be truly valuable" was "for her own self, her ego, not to shine but for her to stand modestly, humbly, in the background." 1

She kept her identity secret despite her adoring readers:
"The Women's Temple, Chicago, Octr. 29th, '95
Beloved Unknown Friend--I have just finished Don, given me by Lady Henry Somerset. My secretary, Miss Gordon, has just read it aloud to me after the fatigue of our National Convention of Temperance Women at Baltimore. It has made us better, tenderer, more aspiring towards worth and gentleness of soul.... I know how strictly you preserve your incognito, but perhaps you will not mind receiving this loving word through your publishers. That you are a woman I feel so sure that I dare to address you thus endearingly.--Your loyal subject Frances Williams"2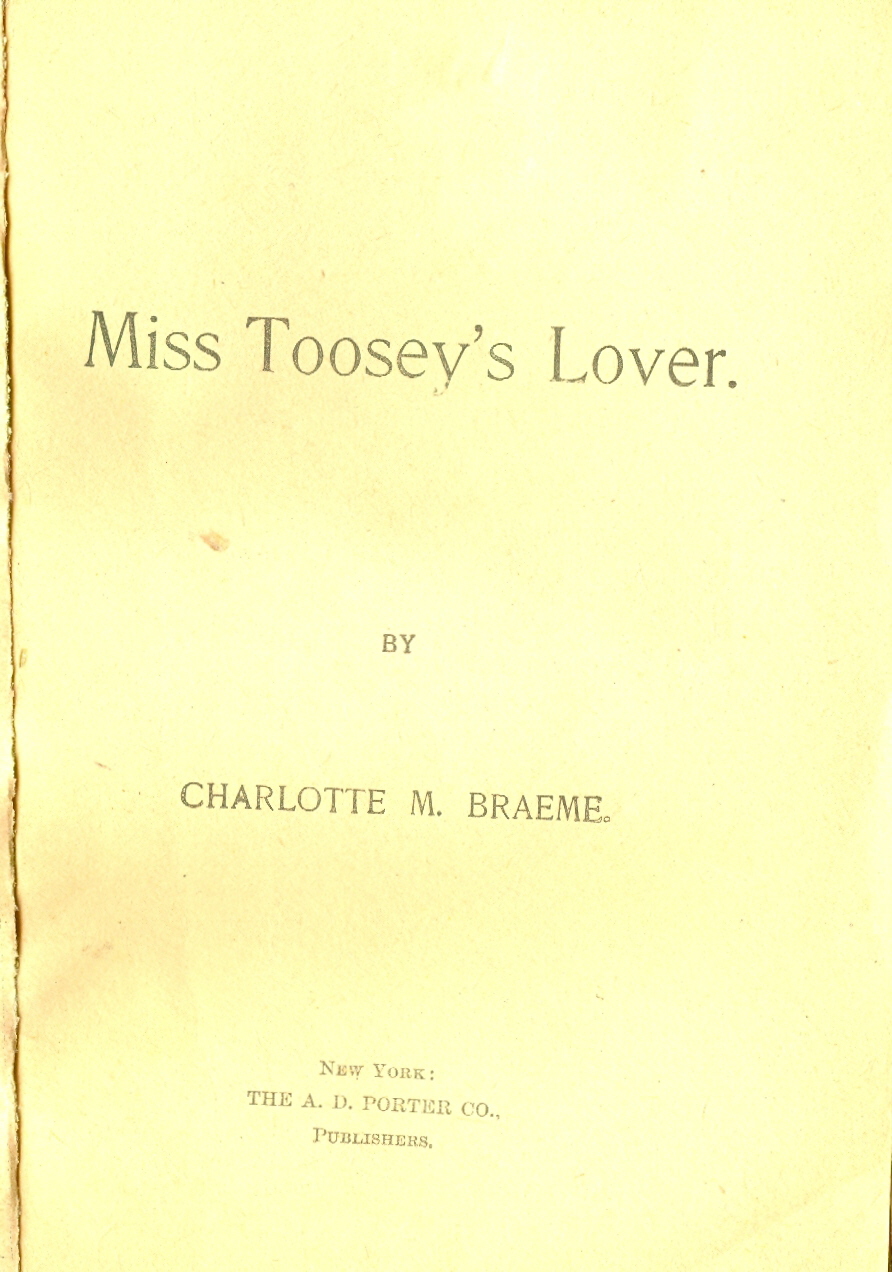 She kept her identity secret despite extensive pirating of her books, most often Miss Toosey's Mission and Laddie, by American publishing houses.
One example of these pirated editions in our archive is the Peoples Magazine Monthly No. 46. issued in December 1898 by A.D. Porter Co., New York, and sold for $1.00. Spine and cover indicate the book is Miss Toosey's Lover by Bertha C. Clay. The title page names the author as Charlotte M. Braeme. The title above chapter one also reads "Miss Toosey's Lover" while the title atop subsequent pages reads "Miss Toosey's Mission" which may indicate pirated printer's plates. Bertha C. Clay is the name used by Charlotte M. Brame (1835 - 1884), author of Dora Thorne, to circumvent her agreements with her British publishers in the American market. After her death, Bertha C. Clay became a "house name" of the American publishers with at least 500 titles appearing under that name.3
An advertisement at the back of this book from our archive for The Hearthstone, 26 Reade Street, New York offers "small prices for great books" and includes several titles, including Miss Toosey's Lover, by Charlotte M. Braeme. This volume also includes Calderon, the Courtier by Sir E. Bulwer Lytton.
[My grandmother, Mary B. Wieland, read very little fiction. In her youth, she had borrowed a novel from a friend and read it with gusto. Throughout my teen years she repeatedly asked if I ever read anything by Bertha Clay. She wanted to read Wife in Name Only again. "Now that's a story!" she said. kcp]
Evelyn Whitaker kept her identity secret despite library catalogers who credited her work to other authors:
"The publishers of Miss Toosey's Mission and its successors have recently written to an inquiring librarian: 'While we can assure you that Mr. Allibone is in error in stating that the author of Miss Toosey's Mission is Mrs. Elizabeth Thomas Meade Smith, we must also state that it is the author's wish that the name be unknown, and we cannot, therefore, give you any information. Yours truly Little Brown and Co."4
When her name was revealed in 1903, the public continued to demand her life story:
"The name of the author of Miss Toosey's Mission has at last been disclosed. This book was published some years ago and a number of books have followed from the same hand, but the anonymity of the author has been sedulously preserved. On the title page of the new book however, Gay. A Story., we read as follows: "By Evelyn Whitaker, author of Miss Toosey's Mission, Laddie, Faithful, Tom's Boy, etc." The publishers, Little Brown & Co., are still unable, nevertheless, to supply further information, beyond the fact that this author is an English writer who has always declined to furnish biographical matter for publication... But all this cannot save one from the awful suspicion that after all these years of anonymity "Evelyn Whitaker" may be nothing more than a pen name."5

Readers had to be content with very few details:
"The authoress of Tip Cat comes from a very respected family. Showing great godliness, she has spent her whole life in the service of the oppressed and the sick. In genuine piety she considers herself only a humble tool of One Higher/The Highest/[i.e.God]. Therefore, having discovered her gift with the pen, she decided to keep her name a strict secret... And so, we are obliged to honor the wish of the authoress and it is denied to us to know her name on the title page.
As she so beautfully has year after year, she relies on her pleasing (pleasant) storytelling to take root in young people. Her imagination, with its appealing hero and heroine in trying circumstance, and her "spinning out" [of the story] as a wisewoman, is in the position to follow (to obey) always a faithful love, seeing the worth of all people, little and great.
No wonder her stories are "on the fast track" especially since Tip Cat and Laddie have appeared. Year after year, a crowd of eager readers greets her books with delight and appreciation."" 1
My translation of Horst's introduction to Tip Cat.

Catalog entry at the British Library's 2011 Historical Prints Edition of Don by Evelyn Whitaker notes:
'The author has decided to remain anonymous because this was the only way she felt completely free to explore a woman's secret life. As she writes in the afterword to the novel, "That doesn't mean this is a memoir; it's many things to me, fiction and nonfiction, fantasy and fact, a quilt pieced together not just from my own stories but those of my friends." She was also inspired to embrace anonymity by the book that inspired her own, an anonymous and very daring Elizabethan manuscript entitled A Woman's Worth.'6

Readers of her books recognized the "...non-fiction... fact... quilt pieced together... from... my own stories" in the texts of her books and thought they knew the author by what she had written. "The author writes with a pretty air of confidence in the reader's friendliness"7and that friendliness led readers to believe that recurring references in her books offered clues to the author's life.

Like her first readers, I (K Cummings Pipes) too thought that I could detect clues about my favorite anonymous writer's life. Early in the life of this project, I made a list of such clues to help me produce a profile of this anonymous author that might aid in the search for her identity:
her mother died when she was very young
she had a loving father but he was busy
she had older brother(s) of whom she was quite fond
she had a sister(s) to whom she was very close
she had strong family connections to the Church of England: her father, husband, brother, uncle may have been a vicar. While she attended Anglican services, she was familiar with Methodism and other "dissenters" and her view of them was generally positive.
she had ties to Home Missions in London's East End
she might have family ties to Somersetshire
she had family connections to the practice of medicine: her father, husband, brother, uncle might be a physician
she is familiar with medicine and public health both in a country village and in London hospitals; she spent time in sick rooms; she may have been a trained nurse
she may have had a brother with the West India Company or one who left Britain to live and work in the Americas or Australia
she was disappointed in the educational opportunites available to women; in her books women blotting letters is a repeated motif; poor women need to be taught letters; rich women need to be taught "something useful"
she liked dogs; dogs often appear in her books: Tipcat's large wolfhound helps care for the little girls; Gay's Oliver treats Doris Mostyn's dachshund with kindness and feeds it bits of cake and Judith's Bobs eases the transition of Gay to his new home with his grandfather; in My Honey, each young woman has a dog that reflects his owner's character and background; in Faithful, the bulldog Pat is pivotal to the plot and King Charles spaniels, pugs, or toy dogs (amusingly disparaged) relieve the lonliness of old widows
she admired men who are "awkward" or "peculiar" or otherwise unfitted for their societal position as gentlemen: Don, Peter Armitage in Faithful, Sandy in Pen. She reverses this in TipCat when the wealthy young Oxonian Dick is forced to support his family through his work and in Lil where Ken Wyatt must give up his pride and wealth for the sake of the woman he loves.
Men who do useful work and who care for children are celebrated
she may have moved frequently
she loved taking long walks in the rural countryside
she was very familiar with plants; much taken with the Victorian language of flowers; she visited London's Zoological Gardens and the flower markets of Covent Garden
she made trips to the seaside, mentions Bristol
she may have traveled to Italy, Switzerland, or the south of France
as an adult she spent time in the nursery: as a governess or in caring for her own or a sibling's children, or she has an excellent memory of her own childhood, or she was around many children whom she observed closely and fondly
she travelled by train (3rd class)
she was very familiar with a working class housefhold; farmer and farm laborer, mill worker, grocer, lodging house
she may have been accomplished at needlework or dress-making
In fact, many of my speculations about the life of the author of the Miss Toosey books would prove to be correct. Evelyn Whitaker's
life story
can now be written, at least in part.
Carolyn G. Heilbrun in her book,
Life Beyond Sixty
uses Samuel Johnson's phrase, "the enduring elegance of female friendship" to "perfectly" describe "the relationship of a woman reader with a woman writer whose work she has encompassed, reread, and delighted in."
8
Such readers of Evelyn Whitaker would wish for the author and for themselves to be able to say:
"...if I were writing a chronicle of my own life I could fill my pages with many incidents which to me at any rate were of deepest interest. There were meetings and partings, marriages and deaths, tragedies and comedies, laughter and tears. I have had my share of sorrow—who has not? But, thank God! I have had my share—sometimes I think more than my share of happiness, and I think that, perhaps with one or two exceptions, I would live my life over again, and certainly would not exchange it for that of anyone else, though now its brightness comes chiefly from the light of other days and from the "sure and certain hope" of the future."9
1
Introduction to Tip Cat by Dr. K Horst, Lektor de engl. Sprache and der Techniscen zu Darmstadt. [December1907]
translation by K Cummings Pipes.

2
Tribute to the Author of "Laddie," etc. from the W & R Chambers catalog at the back of this collection's copy of
Don
.
3
Felicia L. Carr,
American Women's Dime Novel Project, 1870 - 1920
.
http://chnm.gmu.edu/dimenovels/authors/brame.html
4 Library Journal
, November 1898, p. 644. digitized by Google.
5 New-York Tribune. (New York [N.Y.]) 1866-1924, October 03, 1903, Image 10 Image and text provided by Library of Congress, Washington, DC Persistent link: http://chroniclingamerica.loc.gov/lccn/sn83030214/1903-10-03/ed-1/seq-10/

6 Whitaker, Evelyn: afterword to Gay. British Library, Historical Prints Editions.2011

7American Ecclesiastical Review. A monthly publication for the Clergy. By Catholic University of America. Vol. IX, 1898, p. 644. digitized by Google

8 Heilbrun, Carolyn G.: The Last Gift of Time. Life Beyond Sixty. New York: Ballantine Books, 1997. p. 150

9 Whitaker, Evelyn: Faithful. Boston: Little Brown & Company, 1902. p. 129. Unlike most other books by Evelyn Whitaker, Faithful is written in the first person.