[no author]: Tip Cat by the author of "Miss Toosey's Mission" and "Laddie." Boston: Roberts Brothers, 1884, 287 frontis by Pruett Share.
This is a reprint edition by Kessinger Publishing. Click Links on the navigation bar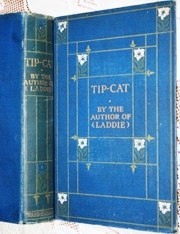 [no author]: Tip Cat by the author of "Lil," "Pen," "Our Little Ann," "Dear," etc. etc. London New York Melbourne: Ward, Lock and Co., Limited, n.d. 336 p. illus. on page 336 "The End" probable printer: "Richard Clay & Sons, Limited, London & Bungay."
presentation plate: St James Board Schools, Canterbury PRIZE awarded to Lizze Ripley for Punctuality & Regular Attendance. E. Russell, A.C.P. Head Teacher, Christmas

binding: dark blue, embossed with gold geometric and white and green flower, title embossed in gold on front and spine, Tip-Cat by the author of (Laddie) Uniform with my copy of Rob. [I saw Our Little Ann in a uniform edition. kcp]

9 pg. ads authors include:

L.M. Alcott, Miss Cumming, H.B. Stowe, Elizabeth Wetherell, Rev. J.H. Ingraham, Rev. EP Roe, Jane G. Austin, Susan Coolidge, Lew Wallace, A.J. Evans Wilson, Ada Cambridge, Florence M. Kingsley, Mrs. Craik, Catherine Sinclair, Mrs. Gaskell, E.H. Strain, Chas. M. Sheldon, Mrs. Henry Wood, M.L. Charlesworth, Faye Huntingdon, Mrs. Webb, Augusta J. Evans Wilson, Margaret Deland, Elizabeth Prentiss, T.S. Arthur, G. T. Bedell.
[no author]: Tip Cat by the author of "Lil," "Pen," "Our Little Ann," "Dear," etc. etc. Herausgegeben von Geh. Rat Prof. Dr. K Horst. Bielefeld und Leipzig: Velhagen & Klasing, (1930. introduction is dated 1907): with the permission of the publisher: Ward, Lock & Co. in London. Series: English Authors Band 116 Ausgabe B. vi, 143 p. with paragraphs numbered.
This book was intended as an handout for English language classes in Germnay. end papers list other titles in series.

5 page introduction by Dr. K Horst, Bischweiler (Elsass, im Dezember 1907.) in German includes biographical information about the anonymous author. [The 1914 edition is listed in World Cat with G. F. Whitaker as a co-author. kcp]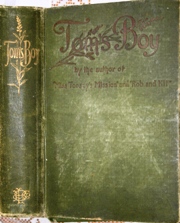 Tom's Boy:
[no author]: Tom's Boy by the author of "Miss Toosey's Mission, "Rob and Kit," "Belle," "Tip-Cat," etc. Illustrated by Percy Tarrant. Boston: Little, Brown, & Company, 1900. 342 p. illus (8 plates)

binding: in poor condition, front cover detaching from spine, uniform with my copies of Baby John, Lil, Our Little Ann

numbers in ink on content page, on back inside in ink: Irene 523.940 Helen, in childish hand

2 pages of illus. publisher advert. in back for The Miss Toosey Books With illustrations. 16 mo. Cloth. In uniform binding Belle, Tip Cat, Pen, Don, Lil, Dear, Pomona, My Honey, Our Little Ann, Rose and Lavender, Rob and Kit.

New editions. Baby John, ZoŽ, and For the Fourth Time of Asking. Miss Toosey's Mission, Laddie, and Pris for $1.00 each, The set, 14 volumes, $14.00.

also lists $.50 editions for MTM and Laddie, Baby John, Pris, ZoŽ, For the Fourth Time of Asking with illustrations. 16 mo. Cloth.
ZoŽ:
[no author]: ZoŽ. by the author of "Laddie" Philadelphia: Henry Altemus Company. 146 p. illus. 3 color plates (Henry Altemus statues logo; main title; and story illus. by ?W H Listern? Copyright, 1899, by Henry Altemus)

bookplate: The Lairds

binding: red cloth, beveled boards, stamped and gilded title and box design front and spine, red paper paste-on printed in color (green, black, gray, burgundy, white) of woman holding a child endpapers: ivory and green HA wreath and vine designs (deco)

includes 14 pages of publisher's advertisements:

" Altemus' Illustrated Vademecum Series. Containing the most popular works of standard authors. HANDY VOLUME, LARGE TYPE editions, with appropriate text and full-page illustrations. Superior paper and printing. Illuminated title pages, etched portraits, and original aquaelle frontispieces in eight colors. Full cloth, ivory finish, embossed gold and inlaid colors, with side titels, boxed, 40 cents." .... 244. ZoŽ by the author of Laddie, etc.

other authors: Halevy, Mulock, Carroll, Kipling, Holmes, Satterthwaite, Shakespeare, Gilbert, Bacon, Balzac, Dickens, Lowell, Sewell, Hawthorne, Irving, Bryant, Beecher, Drummond, Brooks, Dumas, Merimee, Rowson, Chesterfield, Stevenson, Byron, De Qunicy, Gaskell, Ruskin, Sheldon, Shugert, Addison, Ouida, Mitchell, Keats, Lamb, Longfellow, Buckley, Sand,Sienkiewicz, St. Hill, Kingsley, Swift, Carlyle, Weyman, Jerome, Tennyson, A'Kempis, Stretton, Spurgeon, Eliot, Daudet, Arthur, Harraden, Marcus Aurelius, Hughes, Dana, Stowe, Fouque, Marsh, Goldsmith, Thoreau, Poe, Tolstoi, Whittier, Barrie, Farrar.

Other authors: Anna Sewall, Louisa M. Alcott, Mary and Elizabeth Kirby, Harriet Beecher Stowe, Hartwell James,by Prescott Holmes, Mary C. Rowsell (Honor Bright), M. Nataline Crumpton, G.Manville Fenn, Frances E. Crompton, L. T. Meade, Ruth Ogden, Mary D. Brine, John Strange Winter.

Other titles include these by women authors: Florence Morse Kingsely: 5 "Cross" novels; Hildegarde Hawthorne: Fairest of the Fair; Elizabeth Robinson Scovil: 4 on birth & childcare; Eleanor G. Walton: She Who Will Not When She May; Mrs. E. B. Duffy: What Women Should Know.
[no author]: ZoŽ. by the author of Miss Toosey's Mission, Laddie, Tip Cat, Our Little Ann, Pen and Lil. Boston: Roberts Brothers, 1890. 181 p. University Press: John Wilson & Son, Cambridge.

This is a reprint edition by Kessinger Publishing. Evelyn Whitaker on the cover. paperback.

[no author]: ZoŽ. by the author of "Laddie"

Philadelphia

: Henry Altemus Company.

146 p. B&W frontis

inscribed in ink "Mary Pattrick 1906"

binding: brown cloth stamped and gilded in deco designs with paper paste on of tree, haystacks.

includes 32 pages of publisher ads:

Altemus' Illustrated Vademecum Series. (see previous)

Other authors: Dana, Stowe, Fouque, Marsh, Goldsmith, Thoreau, Poe, Tolstoi, Whittier, Barrie, Farrar, Anna Sewall, Louisa M. Alcott, Mary and Elizabeth Kirby Harriet Beecher Stowe Hartwell James, Prescott Holmes, Florence Morse Kingsley, Sarah Trimmer, Juliana H. Ewing, Elizabeth Wetherell, Laddie. by the author of Miss Toosey's Mission ,Tudor Jenks, Madame La Comtesse De Segur, Miss Toosey's Mission. by the author of Laddie, Gabrielle E. Jackson, Juliana H. Ewing, Hesba Stretton, Rudolph Erich Raspe, Mary C. Rowsell (Honor Bright), M. Nataline Crumpton, G.Manville Fenn, Frances E. Crompton, L. T. Meade, Ruth Ogden, Mary D. Brine, John Strange Winter, Minna Thomas Antrim, Rose Terry Cooke, Florence Morse Kingsley, Sarah Austin, L. Haskell. many other series and titles.

[Additional copies of ZoŽ are bound with Baby John and For the Fourth Time of Asking. See Baby John for binding photo.]