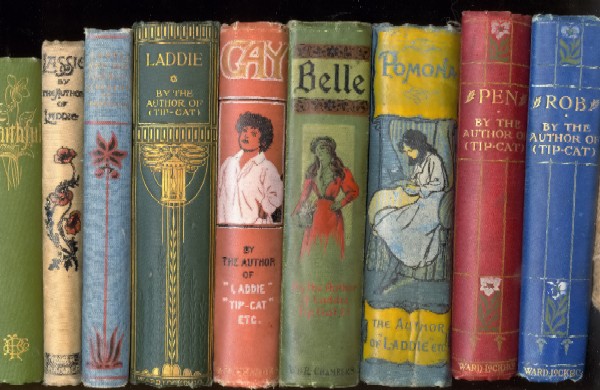 This annotated catalog includes summaries of publishers' advertisements and descriptions of bindings.
[I will be adding photo scans of more bindings in the future. kcp]
The collection numbers 67 volumes by Evelyn Whitaker, 6 volumes by the anonymous author of Honor Bright, 11 additional volumes.
[No collection is ever complete and there is always one more book from a different publisher or with a pretty cover or by a related author.... kcp]
To facilitate faster page loading and shorter page length, titles by Evelyn Whitaker are arranged alphabetically by title and are divided into virtual card catalog drawers:
Drawer 1: Baby Bob, Baby John, Belle, Dear, Don
Drawer 2: Faithful, For the Fourth Time of Asking, Gay
Drawer 4: Lassie, Letters to Our Working Party, Lil
Drawer 5: Miss Toosey's Mission
Drawer 6: My Honey, Our Little Ann
Drawer 7: Pen, Pomona, Phoebe's Hero, Pris
Drawer 8: Rob, Rose and Lavender
Drawer 9: Tip Cat, Tom's Boy, Zoe
Drawer 10: by the author of Honor Bright, misc.
by the anonymous author of Gilly Flower and Honor Bright, [Click by the author of Honor Bright on the navigation bar.]
pirated editions, usually Miss Toosey's Mission attributed to someone other than Evelyn Whitaker,which illustrate the hazards of anonymous authorship and provide examples of the copyright dispute between British authors/publishers and U.S. publishers
miscellaneous items of interest to readers of Evelyn Whitaker or to those who are interested in publishing history, women authors, Victoriana...