Family History and Evelyn Whitaker's Childhood
Evelyn Whitaker was indeed born into "a very respected family."1 Her father, Edward, was born in 1802 into the Whitaker Family of Bratton, Wiltshire.2 He was the third son of Philip Whitaker (born 1766) and his wife Anne Andrews. The family were farmers and Baptists.

In 1823 Edward was admitted Solicitor, Hillary Term and practiced in London. His elder brother Alfred, also a solcitor, at times served as his agent in Frome, Somerset. The brothers had married sisters; Alfred married Catherine Woolbert and Edward married her older sister, Emily Ann.

Edward and Emily Ann married in 1830 and their first child, Caroline was born in 1832 at St. George Bloomsbury, Middlesex. That same year, he was appointed solictor for affairs of her Majesty's Duchy of Lancaster, serving until his resignation in 1871. Four other children were born at St. George, Bloomsbury: Marian in 1834, Francis Philip in 1835, Katherine in 1837, and Emily Jane in 1839.

The 1841 census shows the family living on Southwood Lane, Hornsey, Middlesex. Emily Ann was mothering six children, ranging in age from 1 to 9 years. Twenty-year old Frederick Woolbert was living with the family. His occupation is listed as a solicitor.

A second son, Edward T., named for his father, was born in 1841 at Margate on the coast of Kent. Alfred, named for his uncle, arrived in 1843 at Highgate, Middlesex. A return to the Kentish coast at Herne Bay saw Evelyn's birth in 1844.

The couple's eighth child in thirteen years and their last, Florence Anne Catherine, was born in 1847 at St. Giles in the Fields, Middlesex. [The 1871 census lists her birth place as Lincoln's Inn, London.] The addition of "Catherine" to Florence's name may have been a commendation of the infant to the care of her Aunt Catherine, her mother's sister. Emily Ann did not long survive the birth of her last child.

The 1851 census places the family at 12 Lincoln Inn Fields, Finsbury, Middlesex and lists Edward, at age 49 years, as a widower. The two older daughters, Caroline and Marian, aged 19 years and 16 years, undoubtedly had household duties and the care of their young siblings: Emily Jane, aged 12 years; Edward, aged 10 years; Alfred, aged 8 years, Evelyn aged 6 years, and Florence, aged 4 years. Each of the younger children was listed as "Scholar at Home." Francis Philip at age 16 was also listed as a "scholar" and presumably attending university.
Tavistock Square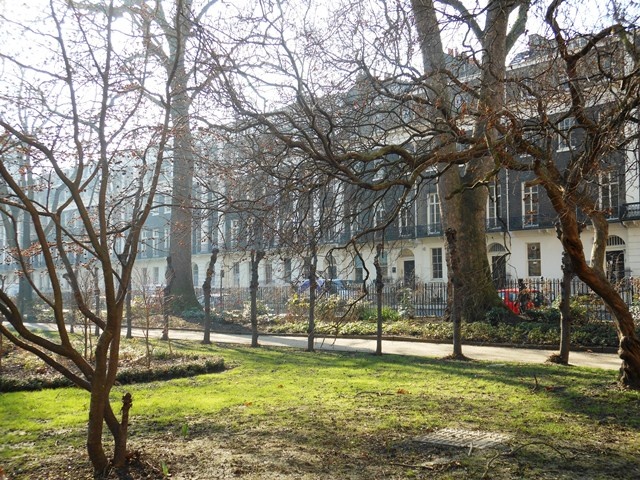 The 1861 census places the family at 52 Tavistock Square, St. Pancras, Middlesex. Neither Marian nor Francis Philip were resident in the home. The fate of Marian is unknown. At 26 years of age, Francis Philip was undoubtedly pursuing his career and already may have married Kate Bean Smith. The other children continued at home. Caroline (29), Katherine (24), and Jane (22) are unmarried. Emily Jane is listed only as Jane in this census. Alfred at age 18 was a "Scholar" and probably at university. The two younger daughters: Evelyn who was 16 years old and Florence, 14 years old, were also listed as "Scholars" in that census.

[52 Tavistock Square would be home to a more famous author. In 1924 Virginia Woolf and her husband Leonard leased a flat in that building. For fifteen years, they lived in the upper two floors while her writing desk and their Hogarth Press occupied the basement. A law firm officed on the remaining floor. The Whitaker males were lawyers... I wonder? The building was destroyed in WWII's bombing of London and replaced with the Tavistock Hotel. Depending on when the Whitakers moved into their Tavistock home, Charles Dickens may have been a near neighbor; he lived at Tavistock House from 1851 - 1860. Tavistock House is now home to the British Medical Association.]

Education, Bedford College
Ladies College in Bedford Square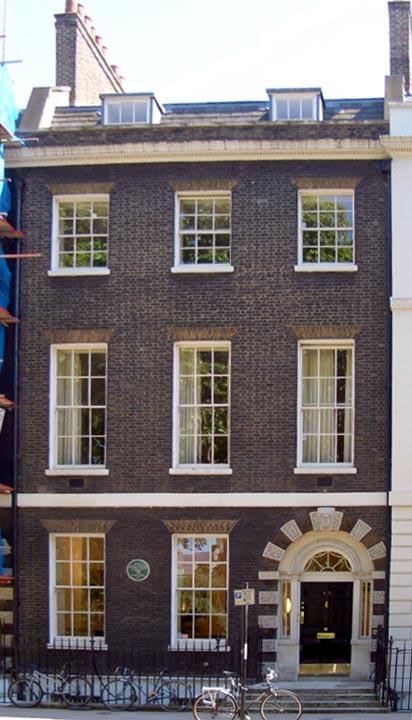 photo by Jacqueline Banerjee
Evelyn Whitaker and her younger sister, Florence, attended the
Ladies College in Bedford Square
. Both are named in the Alphabetical List of Students
3
as beginning their studies in 1858 and 1861 respectively. At that time the college was located at No. 47 Bedford Square and expanded to include the house next door in 1861.
[It is possible that their older sister, Marian, also attended; "M.A. Whittaker" is listed in 1852-53 when Marian would have been 17 years of age. p.88 lists Edith L. Whitaker 1874-75.]
The Ladies College in Bedford Square was founded by
Elizabeth Jesser Sturch Reid
in 1849 with the goal of "the elevation of the moral and intellectual character of women as a means to an improved state of society."
4
It was located at 47 Bedford Square, "in the center of a populous and wealthy neighborhood, where such advantages as a college offered will be particularly valued."
5
The college was not affiliated with any religious denomination and, from the beginning, its leadership included women as well as men. Lady Visitors included
Mrs. Jameson
, author of several books including the Victorians' favorite handbook for travel to Italy,
Legends of the Saints
;
Mrs. Proctor
, who was at the center of London literary society; and famed "bluestocking"
Miss Anna Swanwick
, a Greek and Hebrew scholar and translator of Goethe.
During its first decade the College struggled with enrollment and ill-prepared students. For a time, they offered a School for younger students (aged 9 - 15 years) to prepare for advanced studies. Many, perhaps most, of the older ladies enrolled in only one or two courses each term. A few famous names among those early students were
George Eliot
in 1849,
Dinah Maria Mulock
in 1853, and
Catherine Dickens
in 1857. When the Whitakers matriculated the Ladies College in Bedford Square was changing its name to Bedford College for Ladies, expanding its space, and adopting more rigorous standards. The course of study was 4 years of History, 3 years of Latin, and 3 additional subjects each year. Among the course offerings during this time of transition for the College were: Arithmetic, Drawing, Elocution, English (Literature and Language), French, Geography (Physical), Harmony, History (Ancient), History (Modern), History of Fine Arts, Italian, Latin, Mathematics, Natural Philosophy, Pianoforte, and Vocal Music.
6

[Educating Women. A Pictorial History of Bedford College University of London 1849 - 1985 by
Linna Bentley
is a wonderful resource for more information.]
Although the library during the early years of Bedford College, consisted of five almost empty bookshelves, it may have been during this time that Evelyn read the work which she cited in a British Library interview as influencing her decision to write anonymously. The interviewer in the Catalog notes described "an anonymous and daring manuscript from Elizabethan times."
[This book may have been
Moderata Fonte
's
The Worth of Women (Il merito delle donne)
published posthumously in 1600. It is possible that it was used as an Italian language text at Bedford College or EW may have borrowed it from Mrs. Reid or one of Lady Visitors.
My sense is that Whitaker may have known some French but I doubt that she read Italian. I think it more probable that she had access to an English translation such as the one in the Bodleian Library at Oxford. "...when
Margaret Cavendish
, Duchess of Newcastle, who made highly public bids to enter the republic of letters, visited the Bodleian and presented some books. The librarian, Thomas
Barlow, was able to tell her of a prized manuscript entitled 'Woman's Worth.
Or a treatise proving by sundry reasons that women doe excell men' (MS. Bodl. 1030, by William Page).
The Worth of Women Wherein Is Clearly Revealed Their Nobility and Their Superiority to Men
has been ably edited and translated by
Virginia Cox
, University of Chicago Press,1997. I have it as a Kindle book. kcp]
Education, particularly the education of women, is a major theme in Whitaker's novels.
[For a Victorian view of education for women, I recommend
Woman's Worth; or Hints to Raise the Female Character
. London: H.G. Clarke & Company, 1844, digitized by Google. There is also an 1844 American edition published by D. Appleton and Co., also digitized by Google.]
Religion, San Pancras
During the family Middlesex years, they may well have attended services at San Pancras
Hinton, Hurst, Berkshire:
Sometime before 1864, the family moved to Hinton, near Twyford, in Berkshire. On the 7th of April, 1864, Caroline Whitaker, aged 33 years, married Edward Hyde Frowd Cosens, a "clerk in Holy Orders." Mullegnor Cosens, Elizabeth B. Cosens, Katherine Whitaker and Emily Jane Whitaker signed as witnesses.7

[Edward Hyde F. Cosens was born in 1825 at Shepton Mallett, Somerset, where his father, also Edward Hyde, was chaplain at the House of Corrections. Edward Hyde F. is listed among Oxford alumni as matriculated March 1852, St. Mary's Hall; Bible clerk in 1855, B.S. in 1856, and M.A. in 1858. In 1880 he is vicar of the parish church of Holy Trinity, Tewkesbury. He and "Miss Cosens" are resident at the vicarage in 1894 and 1897. He is the author of Romish Inroads of which there is an 1897 edition.]

1871 is the year that Edward Whitaker resigned his position as solictor for the affairs of her Majesty's Duchy of Lancaster and the census for that year locates the family in Hurst, Berkshire. Four daugters, ranging in age from 34 to 24 years, all of an age to be called spinsters, continue in the home: Katherine, Emily Jane, Evelyn, and Florence. A nephew, George H. Whitaker, aged 23 years, has joined the household and is listed as "Fellow of St. Johns College, Cambridge."

[George H. Whitaker (baptized into the Anglican church while at Cambridge) is the son of Edward's younger brother, George--born 1811--who served as the first provost and professor of divinity of the University of Trinity College in Toronto, Canada, from the time it opened in 1852 until his retirement in 1881 when he returned to Wilshire, near Salisbury. His son who followed his father into the clergy had been sent home to attend Cambridge and made his home with his uncle. It is perhaps George H. rather than George F. Whitaker, as listed in the digitized library catalog, as a co-author with Dr. K Horst of the introduction Tip Cat. Such are the hazards of OCR & digitization. kcp]

Early publishing by EW

Jane Whitaker at the Royal Academy of Music.

Father Edward died 1878.

Published books.

Founds The Buttercups
Addison Park Mansions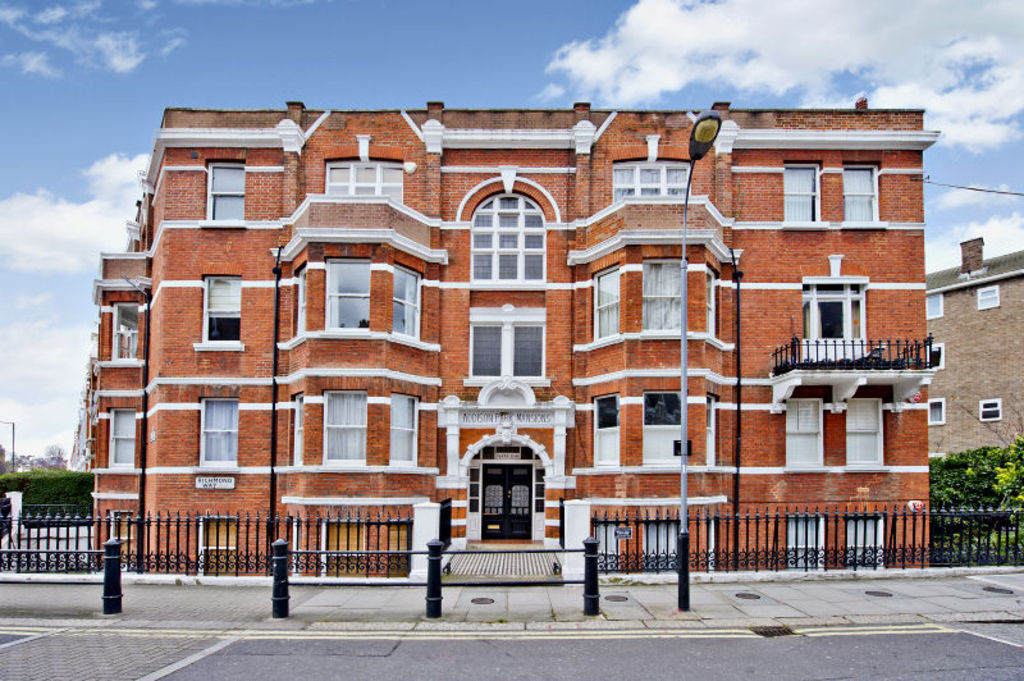 Hammersmith
The 1901 census places Katherine Whitaker, aged 64 years, and Evelyn Whitaker, 43 years of age, "living on own means," in the civil parish of Fulham, near Hammersmith. Emily Jane Whitaker, aged 62 years, has moved a few miles from the family's former home in Hinton Broad, near Hurst, and is listed at St. Leonard Shoreditch, Wokingham, Wargrave.
In 1911, Evelyn and Emily are living at Addison Park Mansions, Richmond Road, near Hammersmith, with a servant, Caroline Sharp, a 62-year-old widow.

Evelyn Whitaker died in Hammersmith sometime in July-September 1929, at 84 years of age.
[I gratefully acknowledge the contributions of Peter Whitaker who is the great, great, great grandson of Alfred Whitaker, the brother of Evelyn's father. He contacted me through this website, remained in contact through email and facebook for a couple of years, chased down records, and made me aware of the error in the dates for Evelyn's birth and death. He generously shared the family tree prepared by his great, great grandfather Edward T. Whitaker who worked in Somerset House, London e.g. the national records office. That chart indicated "Authoress Evelyn Whitaker." Peter made his own genealogical resources regarding the Whitakers of Bratton available to me. Any additional information that I may recover as I continue to work on this project are possible only because Peter pointed me in the right direction. I am grateful both for his efforts on behalf of this project and for his friendship. KCP 18 July 2011]